Lunch Card
One meal card accepted at all restaurants, take-aways and more
With the Swibeco Lunch Card, contribute to your employees' meal costs and give them more purchasing power, completely free of taxes and social security contribution.
Calculate your savings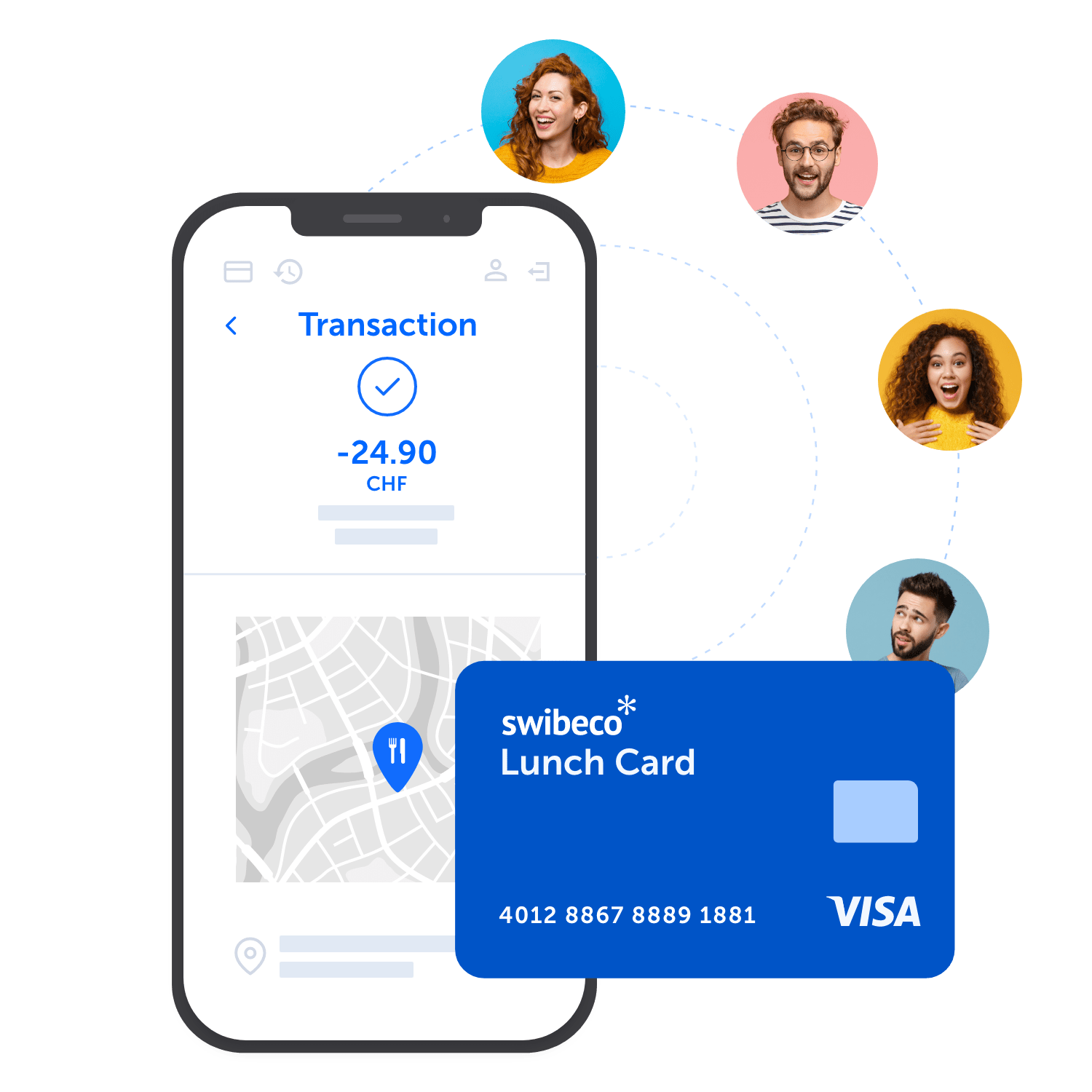 CHF 2'160.- of additional net purchasing power per year
Accepted by 35'000 restaurants, food outlets and delivery services, the Swibeco Lunch Card is an easy and convenient way to pay for employee meals - even when restaurants are closed or your employees are working from home. The Swiss law allows you to contribute up to CHF 180.- per month per employee with full tax and social security contribution exempt.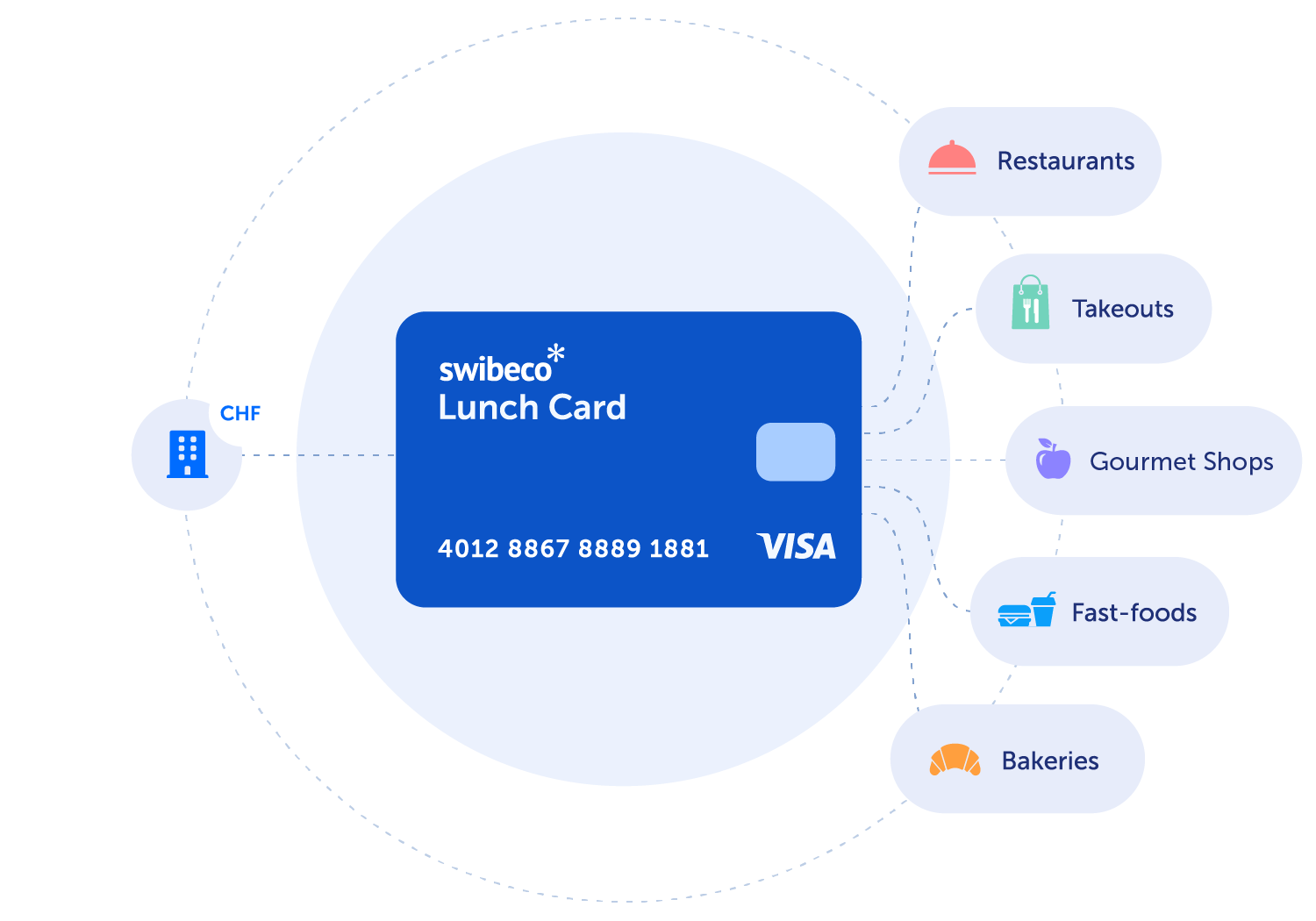 More purchasing power, less social security contributions
With the Swibeco Lunch Card, your employees can enjoy additional purchasing power that is tax and social security contribution exempt. So they save money and the company does, too.
If they accept VISA, they accept the Lunch Card
More than 35,000 restaurants and food outlets in Switzerland accept the Swibeco Lunch Card for meal-related expenses. This is the largest acceptance network in Switzerland.
Easy payment by card or smartphone
The Swibeco Lunch Card can be easily added to Apple Pay, Google Pay and Samsung Pay. That way, you can still use your card, even if you don't have it on you.
Simplified management and automatic payments
With our easy-to-use and intuitive application, don't worry about transferring money to your meal card. Set up automatic payments and spend your time on other things.
Gourmet stores too accept the Swibeco Lunch Card
More choice for employees: the Lunch Card is the only meal card that is accepted in every gourmet store, butcher, fishmonger and cheese shop - for a lunch break at the home office.
No obligation, you can cancel at any time
Our contracts have no time commitment, so you will only be billed for the number of active employee cards, regardless of how much has been paid.
Calculate your savings potential
How much you could save with Swibeco
Use our simulator to calculate how much you could save using the Swibeco Lunch Card to pay for employee meals.
How large is your organisation?
Indicate your total number of employees and find out how much you could save in just a few clicks.
How much would you like to pay per employee and month?
With the Swibeco Lunch Card, you can pay up to CHF 180.- per month towards employee meals. This amount is 100% tax free
CHF per employee per year
*These calculations are based on the following values: employee's social security contributions 15%, employer's social security contributions 20%, marginal tax rate (federal, cantonal, municipal) 30%, without half deduction. Non-contractual calculations.
Customise your estimate with your company's data
Social security contributions
Enter your employer and employee social security contributions
Tax rate
Enter your employees' average marginal tax rate
Estimate your marginal tax rate
Tax deductions
Each employee can deduct a certain amount for meals eaten outside the home that depends on their location, canton of residence and other benefits they have received for eating in the workplace. Find out what the Swibeco Lunch Card will do for each individual case here
How do I get this information?
Information page about meal related tax deductions
Click here
No deductions
0.-
Employees' meals costs are already 100% covered by the employer; employees have the ability to take their meal at home or employees receive cash allowance for meals.
Half deduction
1'600.-
Employees' meals are already partially subsidised by employer (e.g. access to a cafeteria, cantine, company restaurant, meal vouchers, etc).
Full deduction
3'200.-
Employees live too far from their workplace, and/or lunch break is too short to get back home, and/or employees work in night shift or continuous work schedules and employees' meal are not subsidised by employers.
How the Swibeco Lunch Card impacts tax deductions:
No change
Employees would lose their half-deduction
Insert your email and immediately get a detailed PDF report with a variety of simulations and potential savings for your company.
3 flexible solutions
A Lunch Card for all needs
With the Lunch Card, Swibeco offers companies attractive alternatives to increase the purchasing power of their employees. The employer can make a fully tax-free contribution to the meal costs of his employees, but can also offer them the option of transferring a fraction of their gross salary to a meal card in order to benefit from the tax advantages. The system is fully digitalised and automated and does not require any additional HR or management resources from the company.
Solution 1
Solution 100% financed by the employer
The employer puts up to CHF 180.- per month per employee to the Lunch Card to contribute to their meal expenses and thus offer them up to CHF 2'160.- additional net purchasing power per year for their lunch breaks.
Solution 2
Solution 100% financed by the employee
The employee converts up to CHF 180.- per month of his gross salary to the Lunch Card. Thanks to this tax optimisation, he can even double his purchasing power compared to the same amount in salary.
Solution 3
Solution co-financed by the employer and employee
If the company makes a partial contribution to the employee's meal costs, the employee may top up this amount up to CHF 180.- per month with a gross salary conversion in order to optimise his purchasing power.
3 easy steps
Start saving with the Swibeco Lunch Card. It's very easy with these three steps
Order your cards and set up payments on your dedicated Extranet
Your employees get their Lunch Cards in 48 hours, ready to use. In the meantime, you can set up your automatic payments.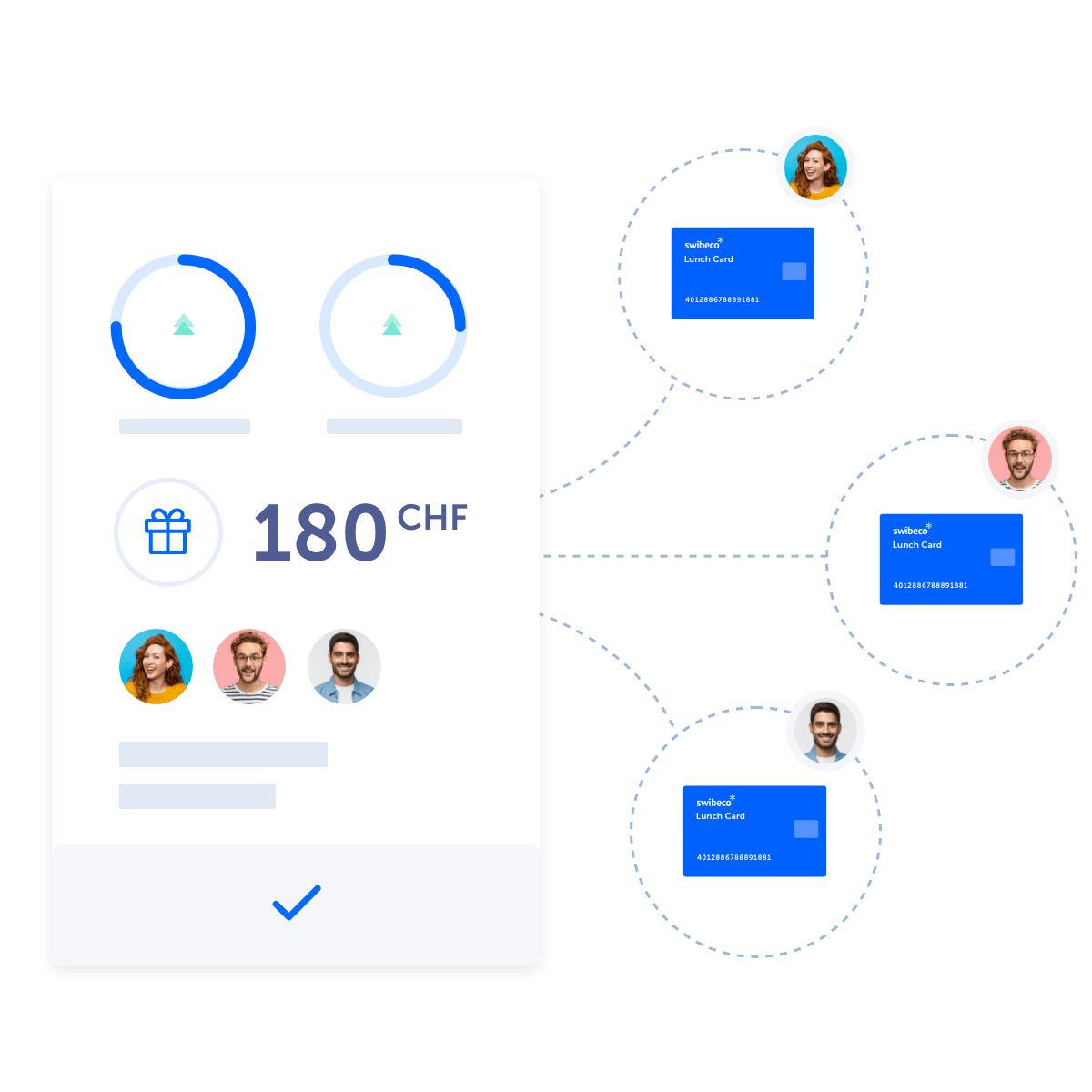 Use the cards to pay for meals
All your employees have to do is pay for their meal expenses at any food outlet or restaurant that accepts VISA (more than 30'000 in Switzerland).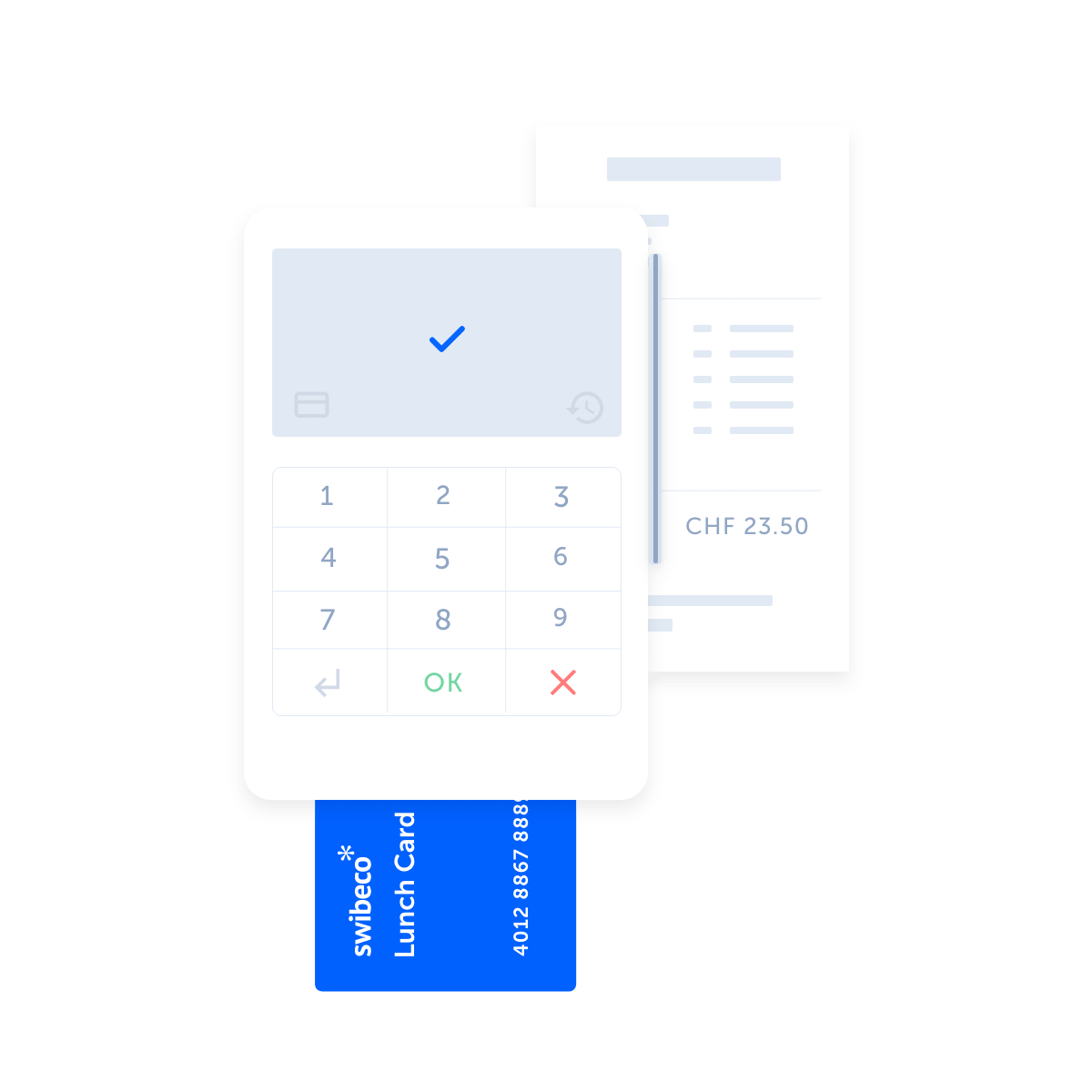 View your transaction history in the application
Your employees can access their balance and transaction history in real time from their smartphones. That way, they can see how much they save on work meals!
Simply by downloading the Lunch Card app:
–Apple Store
–Google Play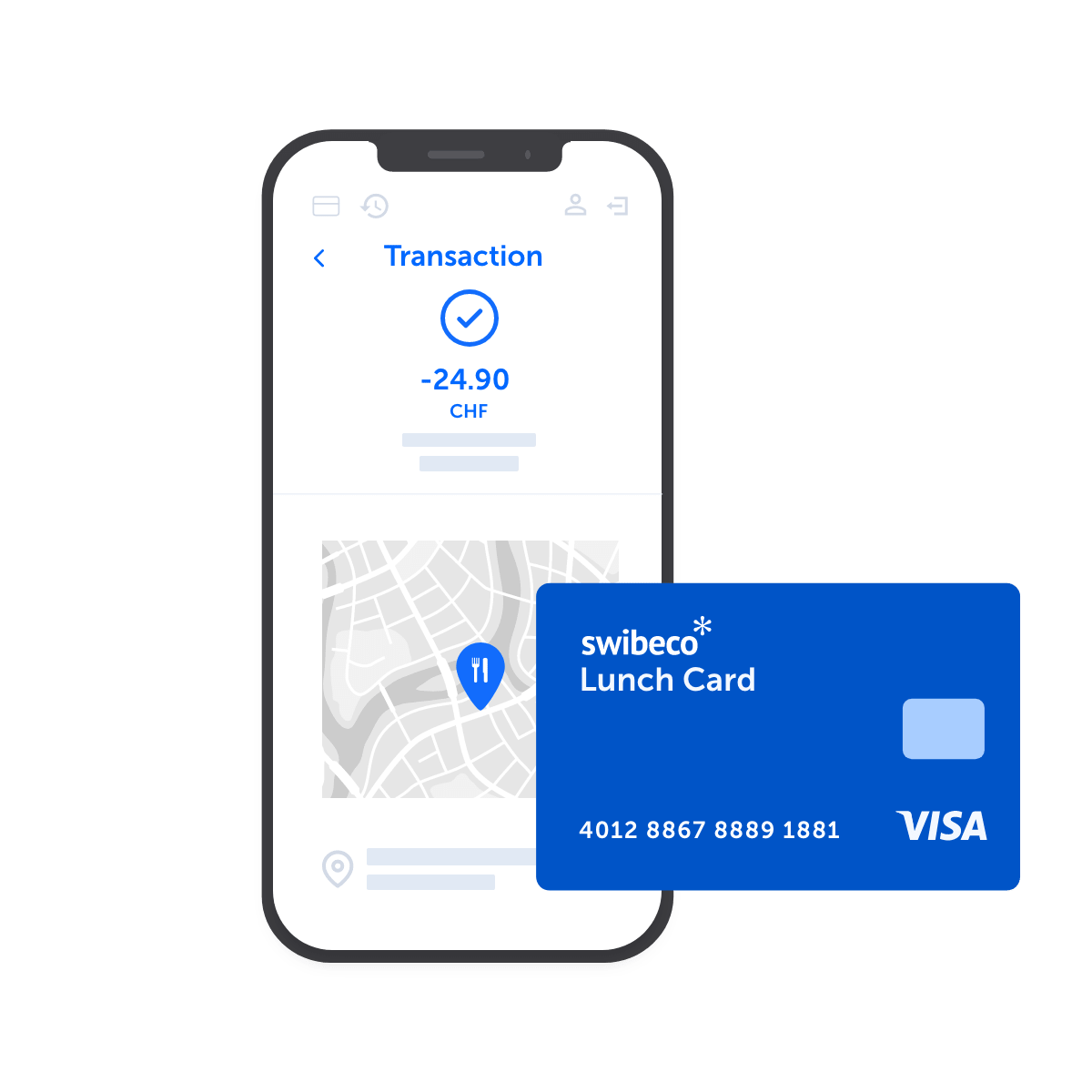 Lunch Card vs. Meal Allowance in cash
The Swibeco Lunch Card is a cost-saving upgrade to traditional meal allowances paid as salary. Here, we compare them in detail:
Meal allowances
Subject to social security contributions and taxes starting at CHF 1.-
Meal contributions not exclusively spent on food (purpose of the benefit)
Low impact on employer brand
Less purchasing power at equivalent total company cost
Lunch Card
Exempt from social security contributions and taxes up to CHF 2'160.- per year, and per person
Contributions spent exclusively on meal expenses in the workplace (purpose of the benefit)
Daily use that gives value to the benefit provided by the employer
More purchasing power at equivalent total company cost
Calculate your savings