Employee Retention: 5 Points to Watch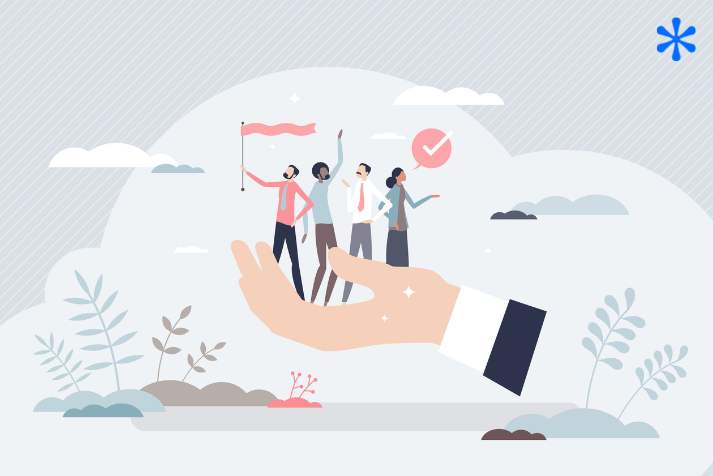 For an employer, employee retention is the holy grail that keeps things running smoothly. Keeping employees loyal and avoiding turnover is no small task, however. Loyalty depends on a multitude of factors that are not always under the company's control. Here, we explain the main factors that increase staff turnover and offer a few solutions.
Top 5 Factors that Contribute to Turnover
Employee loyalty is closely linked to their commitment to the company. However, according to a 2022 Gallup study, employee motivation is quite low, with only 20% of men and 23% of women feeling invested in their work. The youngest employees are also likely to be uncommitted. For HR, there are many points to watch out for.
1. Uninteresting Tasks
The modern employee needs a job that is meaningful and provides daily fulfillment. Brown-out is one of the top causes of resignation. This phenomenon refers to the disconnection of employees from tasks that they consider unnecessary. Employees do not feel that they have a rewarding role that allows them to develop a sense of pride.
2. Lack of Mobility
Not being able to change positions or advance in their careers are bad signs for your employees. This will inevitably lead to boredom and demotivation, which can have serious consequences for the quality of their work: neglected tasks, decreased efficiency, greater margin for error and lower productivity. Faced with the frustration of going in circles and a career with no future, your employees will be on the lookout for better opportunities offered by your competitors.
3. An Unattractive Work Environment
Employee satisfaction sometimes hangs by a thread. If the atmosphere between colleagues or with management deteriorates at your company, employees will take off as soon as the opportunity arises. According to a survey conducted by Ayming, 80% of European employees believe that the quality of social relationships at work is crucial. Conflicts and gossip between colleagues, tensions with managers and communication breakdowns make for an explosive cocktail that is not conducive to staff retention. If you add to this the outdated facilities, obsolete and non-user friendly equipment and tools, employee frustration will mount.
4. The Wrong Workload
Too many projects in too little time or too many documents to write in a day opens the door to burn-out and stress. According to Gallup, 44% of employees consider themselves to be stressed at work, which is quite a lot. Bore-out is also a disease that eats away at the most motivated employees. In contrast to burn-out, this is the result of an insufficient amount of work and repetitive tasks. Days can become very long when the work lacks substance. And employees can quickly feel useless…
5. Lack of Recognition
This greatly reduces employee loyalty to a company. What is the point of being loyal to an employer who does not reward employees for their efforts? The absence of recognition can only weaken motivation and employee commitment.
Strategies for Employee Retention
According to Globoforce, 39% of HR departments believe their biggest challenge is keeping their employees engaged in order to retain talent. Given the diversity of reasons for demotivation, you need to implement a multi-faceted approach based on 4 components.
1. Personal Development
To be fulfilled professionally, employees need to expand their skills and try new activities. You can help them by implementing a diversified training programme, allowing them to develop their employability in other positions or departments at your company. Well aware of the potential of training in terms of staff retention, Uber has chosen to dedicate a People Development team to this strategy. At the same time, give your employees the opportunity for personal development by providing language, music or art classes. Learning new skills improves your employees' ability to concentrate and adapt, as well as open-mindedness and curiosity. These are all positive points for companies seeking excellence and proactivity.
2. Diversified Employee Benefits
Benefits are a good recognition tool for your employees. The Swibeco Benefits platform allows you to offer your employees permanent discounts on major brands in food, multimedia, beauty, phones, sports, and more. It also gives you the opportunity to reward your employees with tax-free Swipoints that can be converted into vouchers. And why not also offer attractive benefits, such as a 6th week of paid vacation?
3. Flexible Hours
Flexibility plays a key role in employee retention and satisfaction. Offer flexible working hours and a variety of working methods (at home, on-site, in teams or individually). The ultimate solution is the 4-day week, which is being adopted by more and more companies like Welcome To The Jungle. In Germany, 71% of employees are in favor of this measure according to a Forsa survey. At MV Group, flexibility is even greater: each employee can choose whether to work four or five day weeks.
4. Team Bonding
Quality relationships are essential for creating a good working atmosphere. This can be achieved by providing communal break areas or company events that allow employees to build stronger bonds or meet their superiors in a more informal way. Also apply proximity management so that employees feel supervised and listened to by their direct superiors. Unless you'd rather go for a more radical concept, like the company Makesense, which has abolished all hierarchy as of 2018!