Flexibility: The Next Employee Benefit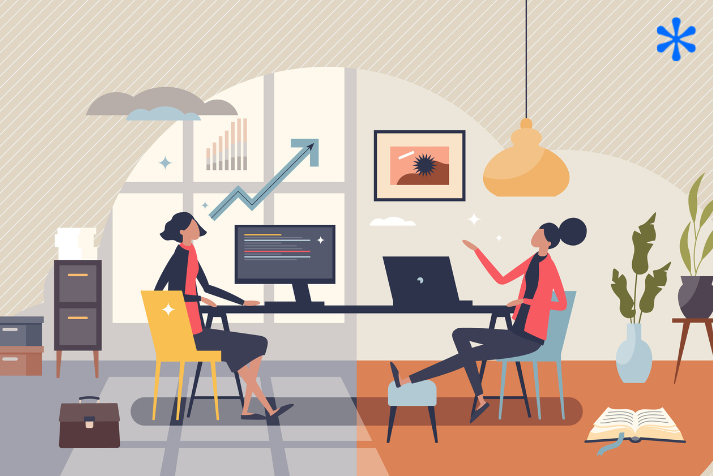 Today's consumers value choice and personalisation of products. We customise our cars or clothes, configure our smartphones and select our TV shows à la carte. Choice has become a deciding factor for customers. This all-encompassing flexibility should be transposed to the professional environment at large, especially since it promotes employee commitment and loyalty.
More Flexibility at Work
Covid-19 overhauled the workplace. Since lockdown and isolation measures have made on-site work more complicated, employers have had to adapt with more flexible approaches. And it turns out that this improvised flexibility has had unanticipated benefits for employee satisfaction, commitment and productivity. What are these new practices that are rejuvenating the workplace?
1. The Flex Office
Since the pandemic, many companies now allow employees to work from home two or three days per week at their own discretion. This corresponds to employee expectations, since according to a Deloitte survey, 62% of Swiss employees want to continue remote work. Moreover, 31% of young workers prefer full-time remote, compared to 22% of workers over 50.
2. Managing Your Own Schedule
Companies now let their employees plan their schedules based on their individual needs. Crédit Suisse has made this a priority for its employees, launching their The Way We Work programme in 2021. This allows employees to plan their schedules with flexibility and agility, as long as the company's needs are met. This is way to give them more freedom so that they are more fulfilled in their personal lives.
3. A la Carte Training
Flexibility is a key aspect of training for employees. Employers are making the most of different learning styles and contexts to reach a wide audience through on-site and remote training programmes. Webinars, brainstorming and virtual classes have been added to traditional training. Employees control their own learning based on their availability using digital content that is accessible any time, anywhere.
4. Work from Everywhere
21st century employees are nomads! They are no longer confined within the partitions of an office. They can bounce between company locations or work from home or other locations like coworking spaces. Better yet, work spaces are becoming as hybrid as scheduling. Some companies house offices, a gym, break and rest areas, a cinema, restaurants, a daycare, and more. This makes the workplace a mini community with options and services for employees.
What if Benefits Were Also Flexible?
Apply an open choice policy to your benefits programme, as well. Today, technology exists to survey your employees and analyse their responses. These algorithms guarantee that your benefits policy adapts perfectly to their needs. As an HR Manager, are you worried that this kind of system would become time-consuming and difficult to manage over time? Don't worry, an expert in fridge benefits like Swibeco makes your programme easy to manage. With an intuitive online platform and flexible reward tools, you can set up your benefits programme with just a few clicks based on your needs. A few examples of Swibeco's in-kind benefits:
The Lunch Card: Accepted Everywhere
Simple and convenient, this pre-paid meal card provided by the employer is one of the most popular employee benefits. You decide how much to allocate to your employees up to the legal tax-free limit of CHF 180.- per month. Your employees can then use this meal card at 35,000 dine-in, fast food and take-away restaurants, grocery stores or delivery services. This gives them a wide range of choices to meet their needs and desires, especially since the Lunch Card is also accepted by food specialty shops such as bakeries, fishmonger's, butcher shops and cheese shops in Switzerland.
Swipoints to Spend Your Way
With the Swibeco digital platform, you can also distribute Swipoints credits to your employees automatically and individually to reward their work. How does this tax-free benefit system work? Employees earn points in their Swibeco account, which they can redeem for brand-name products or vouchers. Flexibility is key for this type of benefit, especially since your employees can get discounts on a wide variety of products: phones, food, fashion, health, sports, travel and more. Swibeco's partner offers also include leading brands (Decathlon, Booking.com, AXA, Zalando, IKEA, Salt, H&M, etc.), as well as top Swiss retailers such as Coop, Manor and Migros. In total, there are over 150 brands that offer permanent discounts or flash offers for your employees. Flexibility and variety are just a click away for fringe benefits and optimal employee satisfaction!