Why Networking Is Essential to Your Career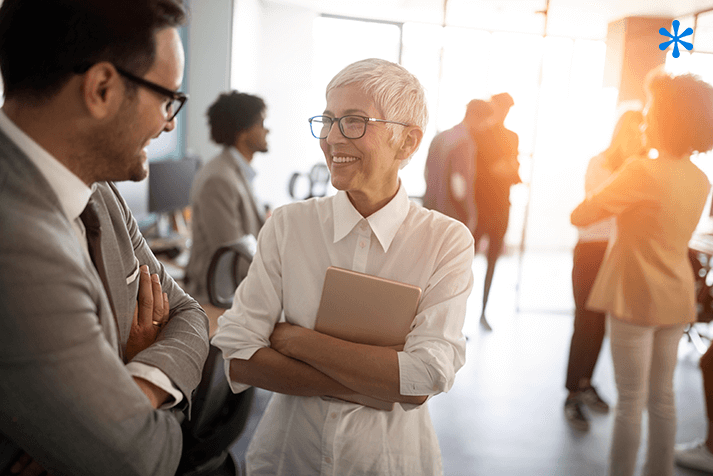 Networking means enriching your panel of personal and professional relationships through social media such as LinkedIn, Xing, Twitter or Reddit. This virtual address book can give you a real leg up in career development. Here are six reasons why employees should use their networking to their advantage.
Your Network Supports You
Networking is based on dialogue and sharing information. The members of a professional network develop solidarity that can take different forms: advice, sharing experiences, exchanging contacts and services. The goal is to pool skills and resources at a large scale to gain access to a wider field of professional opportunities. Did you attend an interesting conference? Tell your whole network by sending them a summary so that they can learn more on the subject, for example. Did you hear about a position opening up at your company? Let people in your network know who may be interested.
Your Network Puts You in Touch With a Variety of Professionals
Networking is efficient if you build an active network of people who can bring something extra to your professional life. The idea isn't to build a relationship with everyone, but to pick out contacts that may be useful for developing your career. Choose people who work in the same field as you, who have had a complementary experience to yours or who specialise in recruitment. Also take a look at people with extensive networks of their own, which will put you in touch with a variety of different individuals. A well-managed network will be a springboard for your career.
Your Network Gives You Visibility
Networking is a great way to gain notoriety and get noticed by online recruiters, both locally and internationally. Much better than a traditional CV, it provides us with a platform where we can showcase our experience and knowledge, as well as our career goals and character. Networking is also great for people who are less comfortable with face-to-face relationships. Whether you're an introvert or just lack assurance, networking is based on contact methods that you can manage at your own pace and in conditions that will help you gain self-confidence.
Your Network Boosts Your Reputation
If you are active in your professional networks, updating your profile regularly and responding to contact requests quickly, you create the basis for solid relationships with newcomers to the community. When people need help and guidance, give them some ideas to think about or suggest solutions. Attend important social and professional events in your network to demonstrate your motivation and desire to learn and grow. With good will and availability, your contacts will see you as a trustworthy person.
Your Network Provides Professional Opportunities
If you see your current position as a stepping-stone in your career and are in search of new professional opportunities, definitely don't miss out on networking. Success is often a result of the quality and size of your personal network. Contacting key people who you would have never been able to meet otherwise can change the course of your career. Professional networks also give you access to positions that don't appear in traditional job offer circuits.
Your Network Keeps You Informed
Information spreads quickly through professional networks. This guarantees that you will be up to date on the latest trends and changes in your field. Contacts in your network may also organise webinars directly related to your work. Don't miss these opportunities to continue learning and develop your career.