Which Swiss companies offer the best quality of life in the workplace?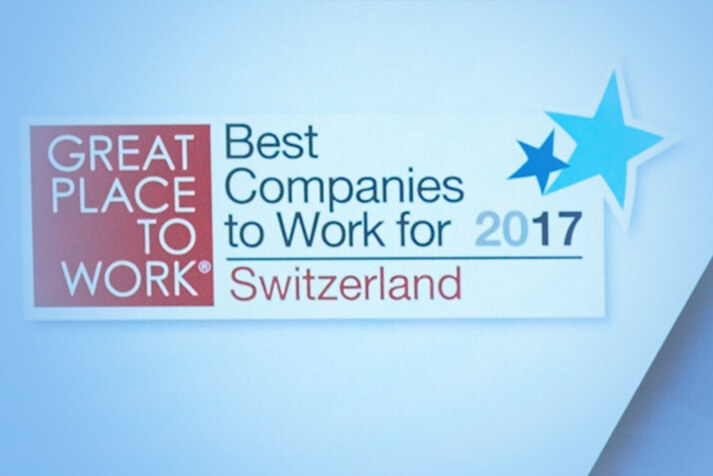 On May 4, the new Great Place To Work® "Best Workplaces in Switzerland" 2017 ranking was announced. This year, the consulting firm interviewed approximately 15,000 employees from 123 Swiss companies to complete its ranking. Allof the employee surveys were anonymous, and the questions covered topics such as relationships with co-workers, corporate pride and the role of management evaluations.
Swibeco was present at the launch event, which featured major players in the HR world. Here is our summary of the evening's key points:
Key takeaways from the survey:

For the second year in a row, the technology giant Google headed the rankings of companies with over 250 employees, followed by the multinationals Hilti (3rd place), IKEA (nb 4), Mc Donald's (nb 5), SAP (nb 6), Smith&Nephewet (nb 7) et H&M (nb 8).
However, there was place for a Swiss company in the list of top companies with more than 250 employees! In fact, second place on the podium was occupied by Sensirion, a Swiss sensor company. Founded fifteen years ago on the basis of technologies developed by the microtechnology laboratories at ETHZ, Sensirion has become a true multinational sensor manufacturer. In its rise to global success, the company has emphasized generous staff packages, as it is hard to attract talent in the competitive world of information technology.
Mundipharma Medical Company, a firm specializing in biotechnology & pharmaceuticals, won the award for the leading company with 50 to 249 employees.
Rackspace International GmbH, a data storage and management company, won the price for the number one company with 20 to 49 employees.
A key point was that employee well-being in the workplace is now seen as being more important than wages. As Michael Hermann, CEO of Great Place to Work Switzerland, told 20min.ch, "McDonalds or Ikea cannot offer high wages in their industries, but they do manage to offer good working conditions and opportunities for their employees."

Do you want to know more about the survey? Click here to see the complete list of the Best Workplaces in Switzerland, 2017. Other publications detailing Best Practices in the workplace will follow at a later date.
Swibeco facilitates the management of Employee Benefits and contributes to overall employee satisfaction.