5 Tips for Motivating Your Employees at the End of the Year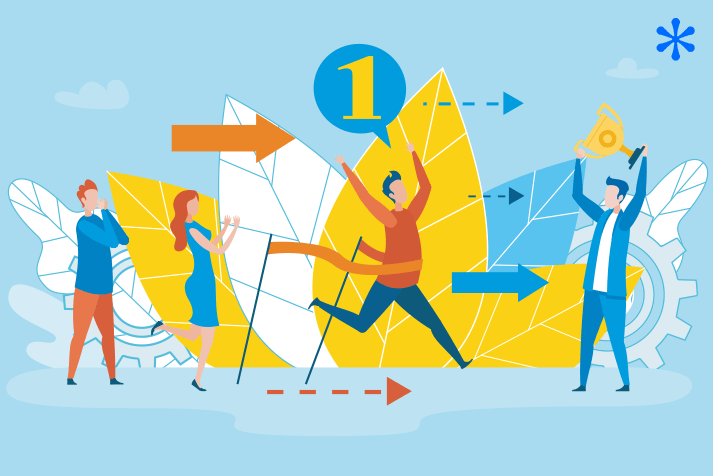 Everything we thought we knew about job security has been shattered in 2020 and 2021. We had to change how we work with the pandemic, leaving many employees feeling lost. The home office overturned their working conditions and schedules; furlough unsettled their financial security. All of this has had negative effects on their mental health and motivation. How can HR teams eliminate this loss of motivation during the pandemic? Here are five ways to finish the year well and start 2022 off under the best conditions.
Adjust End-of-Year Objectives
A company will function well if employees are motivated and want to invest qualitatively. But the end of the year is always a difficult time. For the employer, tensions are high. They need high efficiency so that ongoing projects get finished and first quarter goals can be anticipated for the following year. For employees, however, it is often a time to relax before the holidays.
To make it through this period, which is even more difficult with the Covid-19 pandemic, you need to boost employee commitment by updating company objectives. If you show flexibility and adapt your expectations to this unprecedented situation, you will help your employees resist the stress and professional fatigue that accumulate at the end of the year.
Maintain Social Contact in All Situations
A full-time return of employees to their office workplaces is not in sight. The pandemic has made working from home the norm for many companies, which has given many employees feelings of freedom, renewal and well-being. A 2015 study conducted by Nicholas Bloom for the Stanford Institute for Economic Policy Research showed that home offices increase productivity by 13%. However, this data only pertains to voluntary work from home. When it is imposed, as it was during the pandemic, it leads to loss of motivation and confidence due to employee isolation.
Employers have understood how important it is for employees to feel that they belong to the company and the need to facilitate interactions. As working from home will continue alongside work at the office, managers will have to deal with hybrid models and find ways to stimulate team spirit. You can make a ritual of virtual meetings several times per week to maintain connections between employees when they are not at office. Set up a permanent hotline to help people working from home. And why not create a social committee to design tools for colleagues to help each other?
You should also develop tools for friendly dialogue, which will be even more appreciated at the end of the year, such as virtual coffees or cocktail hours, daily discussions or weekly speed dating for informal chats on anything but work. Success guaranteed!
Use Authentic Internal Communication
This is a difficult time and people are wondering what their professional future holds, so managers and human resources must communicate clearly and succinctly. Your employees' trust is based on honesty. Explain the difficulties your company has encountered since the pandemic and the possibilities on the shorter or longer term. Less productivity, end of furlough and the effort you may ask of employees are all issues that you must address directly. Strong and transparent internal communication is healthy in the face of all these uncertainties. Your employees will feel supported by their management. If you are more understanding than usual, you will see greater commitment and motivation.
Encourage Collaboration
Your employees' well-being depends on recognition by their employer for each effort they make. Each task should be part of an overall circuit of productivity and company success. This will give your employees satisfaction and they will feel invested in something greater than what they do each day at the office. This is a great way to encourage teamwork, which builds solidarity between colleagues and stimulates interactions at work, creativity and innovation through dopamine released in the brain. This win-win cocktail keeps your employees invested in their work.
Plan for the Future
Employees are never as motivated as when you specifically plan for the future, particularly when the current situation is difficult. You can do this through reverse visualisation. Set your goals for the end of the year, then identify the steps you need to get there in reverse. This provides an incentive, helping employees look forward and focus.
Don't let the pandemic undermine your teams. Help them bounce back by planning for post-Covid. What lessons can you learn from the home office on planning your work schedule? What operational changes are required? Have you noticed gaps in colleagues regarding workflow or productivity working from home?
You can have this discussion with your employees, of course, so that they have a voice in the strategies applied at their company. Some groups, such as Academos in Quebec, have a Future of Work Committee. Employees, managers and HR representatives sit on the committee and work collaboratively on assessing employee needs, which they update continually. A very promising option for fulfilling the desire plan for the future.