How to Keep Your Employees Engaged with Work Certificates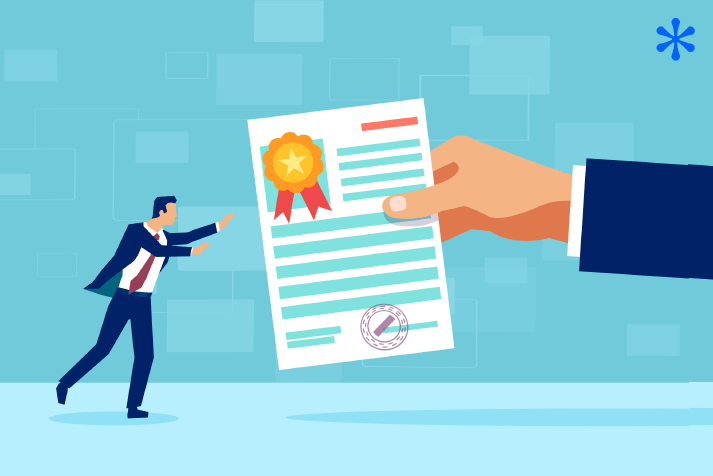 Preparing work certificates, which are essential documents for your employees, is often seen as a purely administrative and time-consuming task. Although it is a legal obligation (certificates have been required by the Swiss Labour Code since 1911), the content and principle of goodwill required by law can be very effective tools for keeping your employees engaged.
What if you could turn this legal obligation into an opportunity to reassure your employees and keep them committed to your company? Sounds unlikely? Here are 3 best practices to change the way you think about this Swiss speciality.
1. Use Interim Work Certificates as Motivation
The end of a working relationship isn't the only time you can provide a proper work certificate. An employee can request an interim work certificate at any time, such as when there is a change in management, their role or company organisation. These are important events for your employees and can affect their motivation.
One of the founding principles of work certificates is goodwill: you should not hamper the employee's professional future without good reason. This means that they are excellent tools for recognising employees' contributions and accomplishments and can be used to improve motivation. A well-written document should give your employees confidence and improve their mood as an official, written record of your appreciation.
But do the work certificates you provide meet your employees' expectations? How can you avoid disappointing them?
2. Include the Employee in the Process
One solution for avoiding disagreements on the content of the work certificate is including your employees in the process and co-creating the document. What does this mean? Imagine allowing the employee to:
Write the description of their position and accomplishments themselves. Who could better describe what they do than the employee? The evaluation remains 100% in the hands of the employer, of course.
Select several key skills that best characterise them, thus avoiding the standard list of skills from which employers often choose.
Co-creation divides the tasks efficiently between all involved and helps the employee feel included, all while avoiding unpleasant surprises. This co-creation process is, of course, only effective with the right tools.
3. Make the Process Easy and Fun with Technology
Efficiently managing the creation of a work certificate requires the proper technology, not a manual process. But proper does not necessarily mean complicated and tedious. Easy and intuitive tools to create work certificates already exist, such as the Swiss platform MyCerty.ch, for example. The automated workflow assigns tasks to each person and the content is generated automatically, shortening the publishing process. You will save precious time that you can spend on other projects and strategies for your employees.
Are you worried that automated content will produce a mediocre result, obviously generated by a machine? Think again. Technology has improved and HR Tech tools are at the cutting edge. Creating this kind of document can even be fun, as long as the process is simplified and accessible to everyone.
So why not promote and produce a document that recognises the work your employees do and jumpstarts their motivation? They will feel even more committed to your company.
LinkedIn: https://www.linkedin.com/company/mycerty